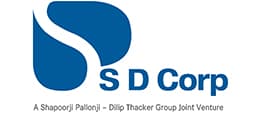 About the Company
SD Corp, a joint venture of Shapoorji Pallonji and the Dilip Thacker Group, is a real estate agency whose vision is to be the developer of choice in Mumbai Metropolitan Region (MMR) by redeveloping communities, transforming lives and creating quality spaces.
Challenges
Sales of the properties were one of the biggest challenges SD Corp was facing despite having an amazing luxury property. Although it is said that a picture speaks louder than words but this is not true in real estate work. They were showing images of the properties but were unable to convince customers. So they thought of giving the customer a realistic experience of the property by making an audio-video.  Video speaks louder than Images and is an effective marketing tool.
Solution
Coming across an agency to make Audiovisual presentation of the property, the approached us for making a presentation in audio-visual format. For creating a video a lot of things need to be taken care of. We started making the scripts, design, and storyboard with our team. Breaking things into several parts- appealing, convincing and realistic were the things we worked upon.
Result
After putting off the things in place, we provided 2-minute Audiovisual presentation in 5 days which turned out be a spectacular work. We received acclamation for presenting the project in an extraordinary way which turned out creates a powerful impact in the minds of the customers.