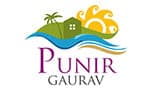 About the company
Punir Gaurav, a project is spread across 33 acres in the middle of Raigarh district which is amid of an expansive land, giving a breathtaking sight scenario surrounding with an abundance of greenery which will make you feel close to the Mother Nature. Their motto is "Destination- Happiness', one can actually be delighted with all the facilities under one roof. The core objective of the plan was to generate leads for which was then followed up by sales team.
Challenges
While having planned this project in mind, the client felt the need for an unusual way of showcasing their vision to the world. Several attempts were made but none of them were up to the mark. They used to create small videos, photos of the place, PPTS to illustrate their work but nothing was working in their favor. By the time they realized that instead of all the previous presentation, why not present it in 3D so that people could experience the view.
Solution
They searched a lot of agencies for their needs but none of them were under consideration. So, finally, they approached us i.e. Weaverbird, where there vision and mission were understood. Ideas were exchanged between us and the client on mail to Dubai. The extensive discussion used to be conducted on Skype.
Result
After strong brainstorming thought process, we created
18 rendered views
6 min 3D walkthrough
Drone shoot was done to illustrate the vast scale of the project.
Also, the first cut of the project was shown to the client in 25 Days. It usually takes more than 6 months for a project to complete but we managed to complete the entire project in just four months including all the necessary changes. We make unthinkable a reality.